Located in the suburb of Gardens in Cape Town, this residence consists of a main house, providing accommodation, with meals, for 35 young women in a hostel-style facility, plus a separate block providing self-catering accommodation for a further 9 residents.
Most city-based colleges and universities are easily accessible, either by walking or public transport. There is a My Citi bus stop at the bottom and top of the road for those destinations which are not within walking distance.
The Cape Town Local Association is managed by a live-in Management couple and a Local Association Committee.
Wi-fi and parking are available. There are laundry facilities and a computer room within the main house.
Main House
The main house provides bedrooms with a bed and mattress, wardrobe, chest of drawers, built-in bookcase, study table and chair plus a hand basin.
There are bathrooms (upstairs and downstairs) consisting of toilets and shower stalls.
Communal lounges and a separate dining area are provided for the use of the residents and guests, while kitchen staff provide the meals.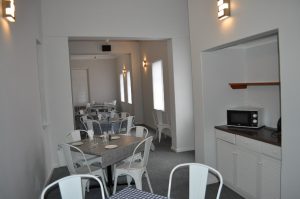 The residents of the main house are expected to bring their own linen, blankets and/or duvets. There is an asbestos wall heater in the rooms for use in the winter. After obtaining permission, they may purchase their own bar fridge, but a small electricity charge is levied on a monthly basis for this facility.
A small DStv bouquet is available on the television in the communal lounge.
Self-catering Studios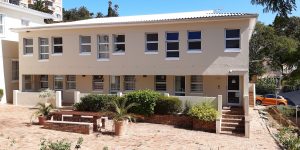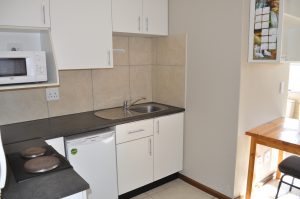 Each self-catering studio provides a bed and mattress, wardrobe, study table and chair, a small stove/top plate combination and fridge plus an en-suite consisting of a toilet, shower stall and hand basin.
The residents in the self-catering studios are expected to supply their own linen, blankets and/or duvets; pots and pans and cleaning items. There is an asbestos wall heater in the rooms for use in the winter. Residents need to qualify to live in a self-catering studio by first being a resident in the main house for a period of at least six months. Self-catering residents are required to purchase their own electricity for the electricity meter installed within each studio.
Guest Accommodation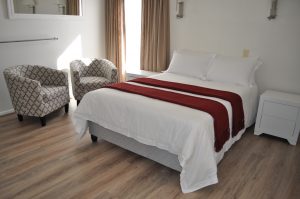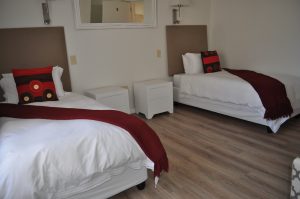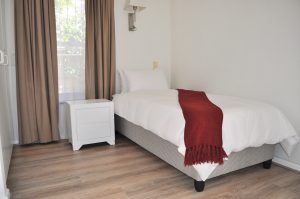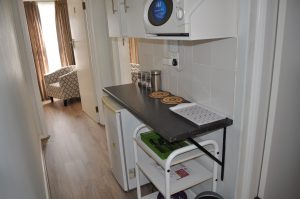 The Cape Town YW guest accommodation can accommodate up to 7 guests in four private rooms.
Breakfast, wi-fi and parking is included in the guest room rate and there is a small DStv bouquet in some guest accommodation rooms.
Close by attractions
Table Mountain
Signal Hill
The Central Business District
The Cape Town Gardens
The V&A Waterfront. A Red Bus Tour can be started here too.
Kloof and Long Streets, which are well known for wonderful restaurants and an interesting shopping experience.
While staying at The YW Cape Town ….
Enjoy good, safe and affordable accommodation within the city bowl.
Look up at the magnificent Table Mountain from the garden, balcony and dining area.
Walk to the city centre through the famous Cape Town Gardens.
Walk down Kloof Street where several colleges are located.
Enjoy one of the many good eating places or coffee shops in Kloof Street.
Take a taxi or the My Citi bus to the popular V&A Waterfront.
Hire a car and see the Peninsula.
Hop onto the sightseeing bus from the V&A Waterfront and other close proximity points.
Tour coaches for self-organised tours will collect guests at the front gate.
Visit Robben Island.
Visit the many beaches Cape Town has to offer.
Tour the many local vineyards.
Sit around the pool and watch the cable car ascend and descend Table Mountain.
Enjoy rest and relaxation in the tranquil garden and comfortable accommodation.
Arrange to eat a catered meal in the dining area thereby enjoying delicious home-style food without having to leave the premises.

Student accommodation rates
Guest accommodation rates
Application form
Enquiries