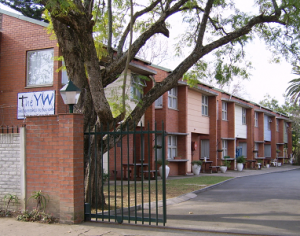 Location
Located in the suburb of Scottsville in the Msunduzi Municipality, and literally across the road from the UKZN Pietermaritzburg campus, this residence for young women consists of 5 houses (conjoined) accommodating 6 residents in each, a large manor house accommodating 9 residents, another house accommodating 7 residents and a cottage accommodating 4 residents. It is managed by a live-in Management couple and a Local Association Committee who aim to create a home away from home experience for young women. All accommodation is self-catering.

Situated in spacious grounds with beautiful gardens, The YW Pietermaritzburg provides the ideal environment for students to concentrate on their studies, relax between lectures or chat with friends. There is always a shoulder to cry on, a word of encouragement, or time for a laugh.
Residence Accommodation
The majority of the rooms are single (one person per room) but there are a few sharing rooms (two persons to a room). The houses are fully furnished and equipped with fridges, stoves, microwaves, kettles, toasters, crockery and cutlery, etc. Bedrooms have a bed and mattress, wardrobe, bookshelf, curtains and a study table and chair. The communal areas of each house (i.e. the lounge/kitchen/dining area plus the bathrooms and toilets) are cleaned twice per week by YW staff.

Residents must purchase electricity cards for the electricity meters installed within the house and share the use of the house. The residents are also required to bring their own bedding and are responsible for the cleaning of their own bedrooms and dishes. Should they wish to use a heater during the winter months, a small fan heater is preferred.
Other facilities
Wifi is available on the premises and DStv is provided in the communal lounge.
There is a small tuckshop at the office, and laundry facilities are available at a small fee.
There is a communal lounge in which DStv is provided for residents and their guests.
Close to …
The Kwa Zulu Natal (KZN) Pietermaritzburg campus in Golf Road is directly opposite The YW Pietermaritzburg residence.
The Scottsville and Hayfields shopping centres are within walking distance.
Taxis travel past the front gate making hailing one easy.
Pietermaritzburg central, where the main bus and rail terminals are located.
While staying at The YW Pietermaritzburg …
Enjoy good, safe and affordable accommodation.
Security is provided with electric fencing, security beams and armed response.
Appreciate that it is situated so close to the KZN University campus.
Enjoy the good restaurants, coffee shops and entertainment places in the Scottsville shopping mall.
Relax and enjoy the buzz of student life.
Become a Sharks (rugby) or a Maritzburg United (soccer) supporter.
Take a trip (or a few) along the Midlands Meander.
Visit the Howick Falls and associated village arts and crafts.
Watch the Duzi Canoe Marathon and/or the Comrades Marathon.
Make lifetime friends and have loads of fun.
Application form and rates